By David Levine
Some people think of me as a workers comp attorney.  Others think that all I do is work on claim assistance or that I only handle NFL benefits for retired pro athletes.  They're right, but there's much more to the story.
As an agent, attorney and consultant, I certainly have never really considered myself a "blogger".  I still don't, but I'll give it a shot.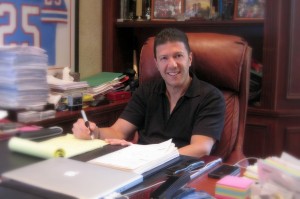 If you have heard of me or my company, Pro Athlete Consulting, from one of your former teammates, there's a good chance that you are reading this with one question in mind.  "I'm also a retired pro athlete, can this guy help me get the benefits that (fill in name of your friend who told you about me) got?" The answer is simple.  "Probably… actually the answer is "Most likely". If you played the game, any game… football (NFL, CFL), baseball (MLB, Minor league baseball), basketball (NBA), hockey (NHL, AHL, CHL and other minor leagues)… or drove a race car (IRL, NASCAR, CART) or played soccer (MLS, NASL) or even professional lacrosse or rugby, there's a very good chance that your body is not in the same condition now as it was before you began your career. More than likely, I'm guessing, you experience some form of pain or lack of mobility on a daily or intermittent basis.  If so, based on a few more factors and time limits which we can discuss, my job is to file and process one or more claims for which you may be eligible so that you can get the financial and medical assistance you deserve. You have probably heard of some or all of the following:  California Workers Compensation Claims; Disability claims; NFL in the line-of-duty claims; total and permanent disability; and social security claims.  You may have heard of them, but you may not know if they apply to you.  I'm here to help you figure out which, if any, you may be entitled to apply for. Please take a look around the rest of our website so you can learn more about the services we provide.  Just so you know, there are no up front, out of pocket fees for any of our services.  We don't get paid unless we help you get paid.   Also, along the same lines, if you want to call me and ask me questions, there's no charge at all.  That's what I'm here for. I heard a commercial on TV the other day.  I don't remember who it was for, but I do remember hearing, "You've got questions, we've got answers."  Same deal between you and me.  You probably have a ton of questions and whether you find the answers on our site or not, feel free to call me at 954-385-1245.  I'll give you all the time you need to make sure that you get the answers you need. If you prefer, you could simply fill out the player information form on our contact us page.  That info goes straight to me and I'll call (or e-mail) you back right away.